How to meet and exceed the CDC's COVID-19 guidelines this fall
Schools will return to a very different world this fall and be faced with a completely new set of student health and wellness challenges. Preparing and responding to these challenges is not only essential for the health of students and staff but the entire community.
To help, the Centers for Disease Control and Prevention has published guidance on how K-12 schools should proactively plan to minimize cases and respond if an outbreak occurs.
In this article, we'll explain:
The who, why, what, and how of the CDC's COVID-19 guidance
Who is the guidance for?
Administrators of public and private childcare programs and K-12 schools.
Why is this guidance being issued?
The CDC COVID-19 guidance has two core goals. It aims to help schools:
Adjust their operations to proactively prevent the transmission of COVID-19
React quickly and effectively should a case be identified to minimize the spread
What is the role of schools in responding to COVID-19?
While children generally have mild symptoms, schools have a critical role to play in working with local health departments.

This is because a single student will often come into contact with many adults outside of school, potentially making schools a point of rapid community transmission.
How should schools prepare for, and respond to, COVID-19?
The CDC has created a decision tree to help schools visualize their role:
We recommend you read the full CDC guidelines here.
How to prepare your school to prevent a COVID-19 outbreak
While there are no 100% effective solutions, here are 7 practical steps your school can take to reduce outbreak risk:
Communication system and plans
Whether you have a confirmed case or are changing procedures, communication will be essential this fall. This includes students, parents, staff, and visitors. By implementing a school notification and alert system, schools can set up a consistent COVID-19 communication channel that reduces confusion.

Look for a system with pre-built and ad hoc notifications sent via email and text. Additionally, you should use dynamic distribution lists that are based on your SIS rather than manual, static lists.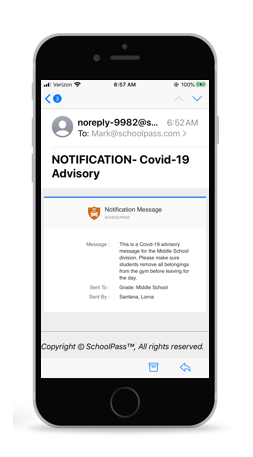 Student, staff, and visitor wellness screening
The first layer of prevention is daily wellness screening. Schools need to confirm that students, staff, and visitors haven't exhibited any symptoms or have been exposed to any health risks before they come onto campus or enter buildings. This should preferably be from home.
This is going to a big challenge for many.

With SchoolPass, you can create a wellness screening process with customizable questions and actions by person type. Staff, parents (for younger students), and older students complete the screening process from an easy-to-use website or app: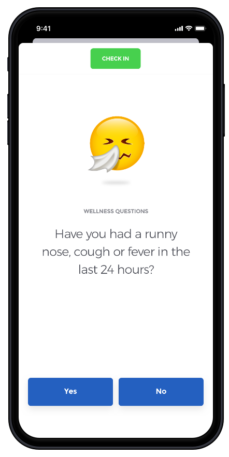 If parents arrive to drop off their children without filling out the daily wellness assessment, they will receive a prompt text message to complete it: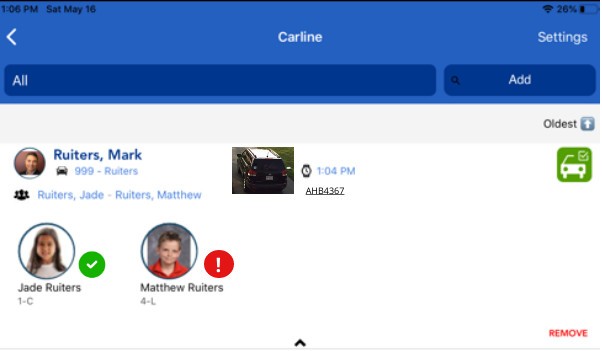 Additionally, your staff will receive an alert for missed assessments and have real-time visibility. This alert will also be sent to older students who manage their own assessments.
Staff, parent, high school driver wellness verification can be done via license plate detection or GPS (as soon as they drive onto campus). You can optionally enable door access dependent on completion of the screening process.
Automated temperature checks
While self-reported wellness screening is important, it alone may not be enough. That's where automated temperate checks and matching come in.
By placing SchoolPass thermographic cameras at entrances, you can automatically take the temperature of every student before they enter the school. Additionally, our facial recognition capabilities automatically match the temperature result with the staff, student, or visitor:
*Currently in development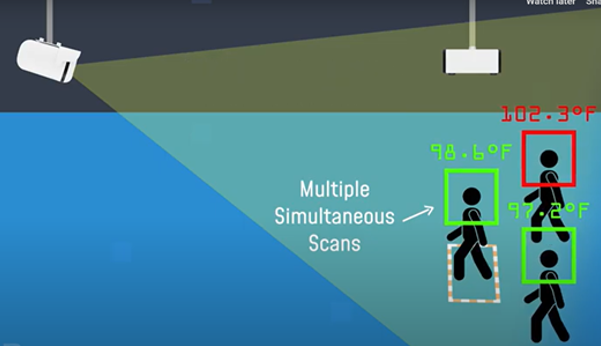 This allows you to receive instant alerts for health risks and intervene immediately.
Area sanitization tracking
Schools will need to sanitize each room between periods or regularly throughout the day (e.g. bathrooms). A sound tracking process is important to avoid oversights.
The SchoolPass staff app will allow you to assign rooms and equipment to any staff member. This can be done on a customizable cycle such as time of day. When your staff completes the sanitization process for a room, they simply check it off in the app.
If a cleaning cycle is missed, a reminder will automatically be sent to designated staff members. You can view sanitization statuses in real-time from your dashboard.
Monitor for absenteeism
In the CDC's guidelines they state that schools should "Review the usual absenteeism patterns at your school among both students and staff." This has two key purposes:
Nurses can use this information to reach out and assess the possibility of a case and take precautionary measures.
A spike could be a sign of an unreported community outbreak. This allows schools to alert local health officials.
With SchoolPass, parents submit absences for their child from an app. They can also state whether it's for health reasons and even include symptoms.
Your staff can view attendance history for any time period in user-friendly reports, making identifying spikes in absences easy:
Contactless curbside arrival and dismissal
Typically, parents enter the building to sign students in/out for late arrivals and early dismissals. This not only puts your students and staff at risk, but also the parent.
School's need a contactless, remote sign-in/out system. With the SchoolPass app, parents and authorized adults can check children in and out from the car using GPS: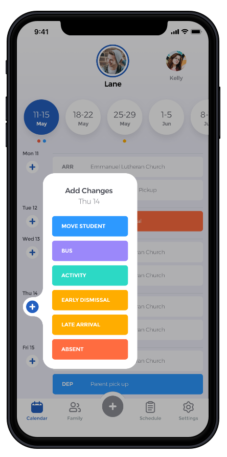 It's fast, secure, and has benefits far beyond COVID-19 prevention. The SchoolPass app replaces calls, emails, and handwritten notes for student attendance, arrival, and dismissal changes. This reduces the time spent managing schedule changes and manually checking students in and out by about 85%.
The late or early dismissal record sends notifications to staff and linked teachers, with an option to be sent directly to your SIS.
Bus capacity management
Schools will soon face very different bus capacity challenges. For example, many schools will need to limit one student per seat and leave every other row empty.
This makes capacity management important for not only health but financial reasons.
Let's say you have two buses on a similar route. A parent with three children decides to pick them up, putting the total number of students within the capacity of one bus.
In this situation, you could consolidate to a single bus. If managed manually, identifying this opportunity could be impossible.
With SchoolPass, you can track and manage school bus ridership and capacity by day and route in real-time. Parent changes are reflected instantly, ensuring there are no surprises at dismissal:

How to respond if a COVID-19 outbreak occurs
Should your school experience a COVID-19 case, there are some specific measures you should be prepared to take.
Fast communication
Quickly updating your school community is the foundation of an effective response. This includes students, parents, staff, and visitors.
Be sure to have a communication system and plan in place to immediately update your entire community so they can take the appropriate precautions.
Contact tracing
After communicating a confirmed case, schools will need to track those the affected individual came into contact with. This goes beyond classmates and their teacher.
For example, students who recently rode the same bus or went to the same after school program or activity.
SchoolPass makes contact tracing simple. In addition to being able to see historical attendance by student and class, you can view who rode each bus or checked into an afterschool activity on any given day.
With this information, you can feel confident you've identified and alerted everyone in your school community who came into close contact with the affected individual.
Flagged student, staff, or visitor alerts
Unfortunately, policies aren't always followed. What if a student, staff member, or visitor who has displayed symptoms tries to come back onto your campus before their quarantine period is over? By the time they are identified, it may be too late.
SchoolPass allows schools to "flag" students, staff, and visitors as part of our leading Visitor Management System. If they try and check-in, you will receive an instant alert and can prevent them from coming into the building.
Only designated admin staff or the nurse can reset the flagged staff member or student.
Let's tackle COVID-19 together
We've been relentlessly focused on helping schools prepare for the fall return.
We started by surveying over 1100 schools on their COVID-19 concerns, plans, ideas, and needs. You can view the report here.
We've also built a robust feature set to help schools track and manage their campus wellness. And the response has been amazing.

We're all in on helping schools prepare for this. If you want to tackle COVID-19 together, reach out to us here. 

Stay safe,
SchoolPass